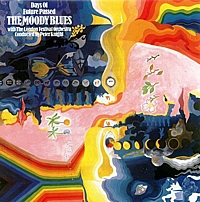 Un brano, notissimo, dei Moody Blues, pionieri del prog-rock; fa parte del loro concept-album del 1967 Days Of Future Passed, autore della canzone era il nuovo cantante del gruppo Justin Hayward. Nel disco questo brano rappresenta l'ultima fase, la notte. La struttura del disco parte infatti dall'alba per seguire, canzone per canzone, una intera giornata.

1. The Day Begins
2. Dawn: Dawn Is a Feeling
3. The Morning: Another Morning
4. Lunch Break: Peak Hour
5. The Afternoon: Forever Afternoon...
6. Evening: The Sun Set: Twilight Time
7. The Night: Nights in White Satin

Il brano, accompagnato e preceduto da una ambientazione sonora ispirata all'accompagnamento musicale di un film melodrammatico, affidata ad una orchestra sinfonica (London Festival Orchestra) allude nella atmosfera, e nel testo, a qualche cosa di drammatico, a un amore intenso che ha una svolta, forse tragica.

Da questo mood malinconico e drammatico il paroliere italiano Pace parte di fantasia con la sua Ho difeso il mio amore, diventato un classico nella versione dei Nomadi: un dramma della gelosia che finisce sulla pietra tombale (di lui), meta delle peregrinazioni di un anonimo narratore (un romantico visitatore di cimiteri? un amico dell'amante tradito?). La indulgenza nei confronti del colpevole dell'omicidio-suicidio è stata giudicata da subito eccessiva, ma non ne ha impedito il grande e duraturo successo.
Curioso notare che negli anni '80 lo stesso procedimento è stato seguito da una scrittrice inglese, Michelle Spring, specializzata nel trarre romanzi da titoli di canzoni famose (tipo "Every Breath You Take", "In The Midnight Hour", ecc.). Nel caso di Nights In White Satin la vicenda è ambientata nella seconda metà dell'800 a Cambridge, e parla di una giovane prostituta che, ovviamente, fa una fine tragica.
(1) Probabilmente il raso bianco di una camicia da notte, oppure delle lenzuola del letto di lei.