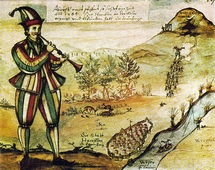 Il personaggio della canzone, Pied Piper (letteralmente "pifferaio dalla veste pezzata") è chiaramente ispirato alla famosa favola raccolta dai fratelli Grimm "Il pifferaio di Hamelin" ("The Pied Piper of Hamelin"), quello che incantava e conduceva con sé prima i topi e poi i bambini della cittadina tedesca. Qui incanta i giovani beat.
La canzone era stata incisa l'anno prima dagli autori con il titolo The Changin' Times , ma è divenuta famosa solo con questa versione di Crispian St. Peters (Robin Peter Smith).
Nell'immagine a destra il pifferaio come è rappresentato nella cattedrale di Hamelin).

The song is inspired to the tale "The Pied Piper of Hamelin", transcribed by Brothers Grimm. In the tale the pied piper enchanted the children of the little town, in this song he does the same thing with the beat generation youth. (On the right the The oldest picture of Pied Piper taken from the glass window of Marktkirche in Hamelin by Freiherr Augustin von Moersperg).
The song had been recorded in 1965 by its writers, Steve Duboff and Artie Kornfeld, as The Changin' Times, but the success arrived with this version.