Loved, I two men equally well
Though they were different
As heaven and hell

Ho amato due uomini altrettanto validi
sebbene fossero differenti tra loro
come il paradiso e l'inferno

One was an artist
One drove a truck
One would make love
The other would fuck

Uno era un artista
Uno guidava un camion
Uno voleva fare all'amore
L'altro voleva scopare

Each treated me
The way he knew best
One help me lightly
One bruised my breast

Ognuno di loro mi trattava
nel modo migliore che conosceva
Uno mi aiutava con leggerezza
Uno mi lasciava segni sul petto

And I responded
On two different levels
Like children reacting
To angels and devils

Ed io rispondevo loro
su due livelli differenti
come un bambino alle prese
con angeli e diavoli

One was a poet
Who sang and read verse
One was a peasant
Who drank and who cursed

Uno era un poeta
che cantava e leggeva versi
Uno era un villano
che beveva e malediceva

Before you decide
Who's cruel and who's kind
Let me explain what I felt
In my heart and my mind

Prima di decidere
Chi (dei due) è crudele e chi è gentile
Lasciatemi spiegare cosa ho provato
Nel mio cuore e nella mia mente

The artist was tender
But suffered from guilt
Making him sorry
The following day

L'artista era tenero
Ma soffriva di sensi di colpa
Che lo facevano stare male
Il giorno seguente

And he made me feel guilty
The very same way
In his bed on the following day

E mi faceva sentire in colpa
Proprio nello stesso modo
Nel suo letto, il giorno seguente

The other would take me
And feel no remorse
He'd wake with a smile
In the bed where we lay

L'altro mi voleva prendere
e non provava alcun rimorso
Si svegliava con un sorriso
Nel letto dove avevamo dormito

And he made me smile
In the very same way
In his bed on the following day

E mi faceva sorridere
Proprio nello stesso modo
Nel suo letto, il giorno seguente

The blow to my soul
By fear and taboos
Cut deeper far
Than a bodily bruise

I colpi che davano alla mia anima
le paure e i tabù
Lasciavano un segno più profondo
Di un livido sul (mio) corpo (1)

And the one who was gentle
Hurt me much more
Than the one who was rough
And made love on the floor

E quello che era gentile
Mi feriva più profondamente
Di quell'altro che era rozzo
E faceva l'amore sul pavimento.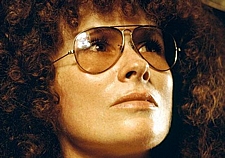 Dory Previn, autrice di testi di successo ("lyricist" in inglese, suona molto meglio di "paroliere", come usiamo noi), poetessa e cantautrice in proprio, moglie per diversi anni del noto direttore d'orchestra Andrè Previn, ha scritto molte interessanti canzoni pubblicate in 4 album principali tra il 1970 e il 1976, di cui si può leggere tutto su Allmusic (e, su di lei, anche su Wikipedia). Peculiare è la franchezza diretta e la originalità dei suoi testi, anche per gli argomenti trattati, accompagnata da una sottile ironia e dalla leggerezza con cui sono offerti all'ascoltatore, grazie anche alla interpretazione in chiave low e alla musiche efficaci, spesso già al primo ascolto, della stessa Dory Langdon Previn.
Di questa canzone, pubblicata sull'album del 1971 Mythical Kings and Iguanas, Ornella Vanoni ha proposto una efficace cover in italiano dal titolo semplificato "Angeli e diavoli" con una efficace e fedele traduzione (di Paolo Limiti) per il suo album del 1973 "Ornella Vanoni e altre storie".
(1) Per questo verso chiave proponiamo una traduzione più libera.