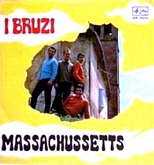 Il grande successo internazionale dei Bee Gees era stato proposto in versione italiana dai Bruzi (un gruppo calabrese, su disco Ariston AR 0234) e dai Casuals (un gruppo inglese arrivato in Italia e prodotto da Gino Paoli). Molto migliore la versione dei meno noti Bruzi. Il testo italiano prescinde del tutto dall'originale dei fratelli Gibb e anche dalla geografia, perché suppone che il Massachussetts, la regione di Boston dove d'inverno fa meno 10 gradi ed oltre sia un posto idilliaco pieno di fiori. Al contrario di quanto sosteneva John Phillips (americano, a differenza dell'autore del testo italiano) che infatti scriveva quell'altra celebre canzone mentre era nel New England. In italiano diventa quindi una specie di inno ai figli dei fiori, mentre l'originale era un brano che suonava anti flower-power, col protagonista che oramai San Francisco l'ha vista e gli è bastata e torna a casa dalla sua ragazza, in Massachussetts, appunto.
Feel I'm goin back to Massachusetts,
Somethings telling me I must go home.
And the lights all went out in Massachusetts
The day I left her standing on her own.

Tried to hitch a ride to San Francisco,
Gotta do the things I wanna do.
And the lights all went out in Massachusetts
They brought me back to see my way with you.
Talk about the life in Massachusetts,
Speak about the people I have seen,
And the lights all went out in Massachusetts
And Massachusetts is one place I have seen.