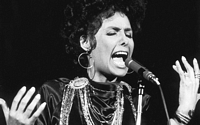 Una_canzone del 1939 del noto autore Jimmy Van Heusen con testo del paroliere Eddie DeLange che in quel periodo collaborava con lui per il musical Swingin' The Dream, liberamente ispirato all'opera teatrale A Midsummer Night's Dream di Shakespeare. Il musical non ha avuto un grande successo, è stato chiuso dopo 13 repliche, ma la canzone è stata ripresa da Benny Goodman (con Mildred Bailey alla voce) per la sua orchestra, ottenendo un buon riscontro di vendite ed entrando nella top-10 nel 1940. Si contano circa 120 cover della canzone originale e diverse anche se non numerosissime esecuzioni jazz: di Miles Davis la prima, nel 1950, nello stesso anno una di Count Basie (versione cantata, ma con Lester Young al sax), quindi Kenny Dorham nel 1953, poi Thelonious Monk (1956), George Shearing (1962), Bill Evans con Jim Hall nel 1962, quella di Dexter Gordon del 1964 scelta come confronto per il nostro canale YouTube, e più recentemente una di Art Pepper nel 1991.
Tra le esecuzioni cantate in evidenza quella di Ella Fitzgerald del 1962 e quella dello stesso anno della classica interprete jazz e soul Lena Horne (nella foto) per l'album On The Blue Side, che abbiamo scelta per proporla a confronto con quella di Dexter Gordon e dei suoi compagni di strada.
I due album da cui sono tratti le esecuzioni sono il già citato "Lena on the Blue Side" del 1962, dove la Horne è accompagnata da Andy Ackers al Piano, George Duvivier al Basso, Al Caiola alla chitarra, Bernie Glow e Mel Davis alla tromba e Osie Johnson alla batteria, e il fondamentale album "One Flight Up" del 1964, dove Dexter Gordon è accompagnato da Donald Byrd alla tromba, Kenny Drew al piano, ed il celebre contrabbassista danese Niels-Henning Orsted Pedersen assieme ad Art Taylor alla batteria costituiscono la sezione ritmica. Nell'embed sottostante il video disponibile per l'ascolto a confronto nel canale YouTube di M&M.